Samplosophy® 2D Data Matrix tubes from LVL technologies securely stores biospecimens together with systematic sample access. Samplosophy® tubes are designed for long term medical grade care of biological materials, including human biospecimens, animal biospecimens, cell cultures, and even environmental samples. The Samplosophy® biobanking system ensures your sample is reliably maintained to prevent deterioration over time and protected from physical damage, both accidental and intentional.
2D Data Matrix Tubes With Rack & Cover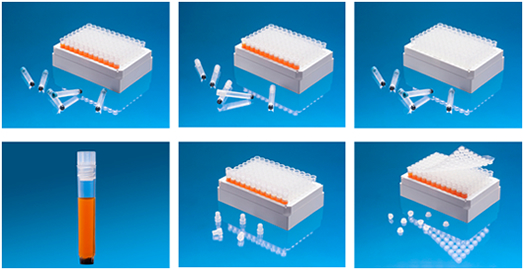 For over 10 years customers from human, veterinary diagnostics and biopharma areas have been confidence in using uncoded and alphanumeric tubes, as well as tube rack systems, from LVL technologies as a part of their work. Approximately 100 million tubes were used in this period. In response to new demands in Sample Management, in particular for high sample throughput (e.g. bio bank sector), LVL technologies has developed a data matrix tube rack system by making use of the latest technologies, which combine the greatest quality demands with the far unreachable price-performance ratio. In short, a new philosophy in modern Sample Management has risen. Made in the EU by modern injection molding machines, tools and lasers.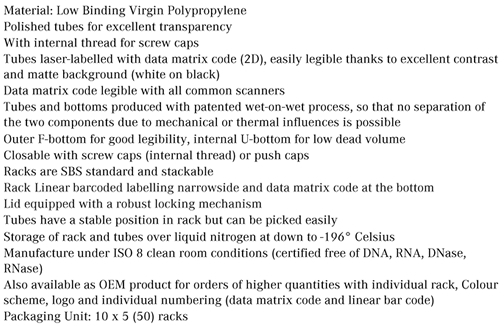 LVL 96 Sample Rack with coded tubes 1,2ml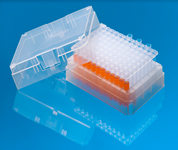 Material polypropylen (PP)
SBS-standard suitable for all robotic sample systems
Available with coded or non-coded tubes
Pressure-tested tightness of tubes
Frame prevents falling out of tubes
Lid snaps easily and closes securely
Stackable, for the use with stacker instruments
Suitable for side surfaces barcode
Selectively could be closed with our 8 tube strips, 8x12 cover mats or sealing foil
Autoclavable for 20 min at 121° C, temperature-resistant to -80°C
Tubes can be ordered as single ones, as 8 tube strips or as a 96 refill system
LVL 96 Sample Rack with non-coded tubes 1,2ml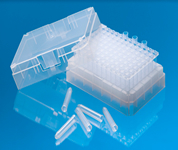 Material polypropylen (PP)
SBS-standard suitable for all robotic sample systems
Available with coded or non-coded tubes
Pressure-tested tightness of tubes
Frame prevents falling out of tubes
Lid snaps easily and closes securely
Stackable, for the use with stacker instruments
Suitable for side surfaces barcode
Selectively could be closed with our 8 tube strips, 8x12 cover mats or sealing foil
Autoclavable for 20 min at 121° C, temperature-resistant to -80°C
Tubes can be ordered as single ones, as 8 tube strips or as a 96 refill system
LVL 96 Sample High Rack with coded tubes 1,2ml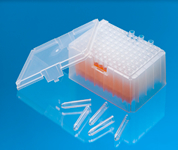 High rack / flat lid
Material polypropylen (PP)
SBS-standard suitable for all robotic sample systems
Available with coded or non-coded tubes
Pressure-tested tightness of tubes
Frame prevents falling out of tubes
Lid snaps easily and closes securely
Stackable, for the use with stacker instruments
Suitable for side surfaces barcode
Selectively could be closed with our 8 tube strips, 8x12 cover mats or sealing foil
Autoclavable for 20 min at 121° C, temperature-resistant to -80°C
Tubes can be ordered as single ones, as 8 tube strips or as a 96 refill system
LVL 96 Sample High Rack with non-coded tubes 1,2ml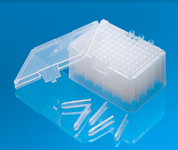 High rack / flat lid
Material polypropylen (PP)
SBS-standard suitable for all robotic sample systems
Available with coded or non-coded tubes
Pressure-tested tightness of tubes
Frame prevents falling out of tubes
Lid snaps easily and closes securely
Stackable, for the use with stacker instruments
Suitable for side surfaces barcode
Selectively could be closed with our 8 tube strips, 8x12 cover mats or sealing foil
Autoclavable for 20 min at 121° C, temperature-resistant to -80°C
Tubes can be ordered as single ones, as 8 tube strips or as a 96 refill system
LVL 96 Sample Rack with coded tubes 0,65ml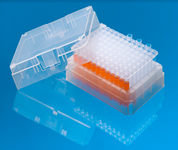 Material polypropylen (PP)
SBS-standard suitable for all robotic sample systems
Available with coded or non-coded tubes
Pressure-tested tightness of tubes
Frame prevents falling out of tubes
Lid snaps easily and closes securely
Stackable, for the use with stacker instruments
Suitable for side surfaces barcode
Selectively could be closed with our 8 tube strips, 8x12 cover mats or sealing foil
Autoclavable for 20 min at 121° C, temperature-resistant to -80°C
Tubes can be ordered as single ones, as 8 tube strips or as a 96 refill system
LVL 96 Sample Rack with non-coded tubes 0,65ml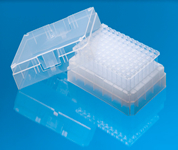 Material polypropylen (PP)
SBS-standard suitable for all robotic sample systems
Available with coded or non-coded tubes
Pressure-tested tightness of tubes
Frame prevents falling out of tubes
Lid snaps easily and closes securely
Stackable, for the use with stacker instruments
Suitable for side surfaces barcode
Selectively could be closed with our 8 tube strips, 8x12 cover mats or sealing foil
Autoclavable for 20 min at 121° C, temperature-resistant to -80°C
Tubes can be ordered as single ones, as 8 tube strips or as a 96 refill system
LVL 96 Sample High Rack with coded tubes 0,65ml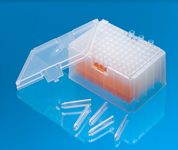 High rack / flat lid
Material polypropylen (PP)
SBS-standard suitable for all robotic sample systems
Available with coded or non-coded tubes
Pressure-tested tightness of tubes
Frame prevents falling out of tubes
Lid snaps easily and closes securely
Stackable, for the use with stacker instruments
Suitable for side surfaces barcode
Selectively could be closed with our 8 tube strips, 8x12 cover mats or sealing foil
Autoclavable for 20 min at 121° C, temperature-resistant to -80°C
Tubes can be ordered as single ones, as 8 tube strips or as a 96 refill system
LVL 96 Sample High Rack with non-coded tubes 0,65ml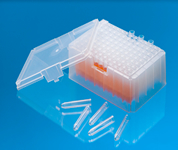 High rack / flat lid
Material polypropylen (PP)
SBS-standard suitable for all robotic sample systems
Available with coded or non-coded tubes
Pressure-tested tightness of tubes
Frame prevents falling out of tubes
Lid snaps easily and closes securely
Stackable, for the use with stacker instruments
Suitable for side surfaces barcode
Selectively could be closed with our 8 tube strips, 8x12 cover mats or sealing foil
Autoclavable for 20 min at 121° C, temperature-resistant to -80°C
Tubes can be ordered as single ones, as 8 tube strips or as a 96 refill system
LVL 96 Refill with coded tubes 1,2ml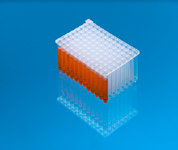 Material polypropylen (PP)
Tubes are pre-assembled in frame for fast loading of empty racks
One corner cut away for definite orientation
Available with coded or non-coded tubes
Pressure-tested tightness of tubes
Autoclavable for 20 min at 121° C, temperature-resistant to -80°C
Convienent handling and reduced waste
LVL 96 Refill with non-coded tubes 1,2ml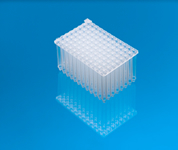 Material polypropylen (PP)
Tubes are pre-assembled in frame for fast loading of empty racks
One corner cut away for definite orientation
Available with coded or non-coded tubes
Pressure-tested tightness of tubes
Autoclavable for 20 min at 121° C, temperature-resistant to -80°C
Convienent handling and reduced waste
LVL 96 Refill with coded tubes 0,65ml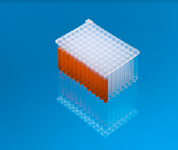 Material polypropylen (PP)
Tubes are pre-assembled in frame for fast loading of empty racks
One corner cut away for definite orientation
Available with coded or non-coded tubes
Pressure-tested tightness of tubes
Autoclavable for 20 min at 121° C, temperature-resistant to -80°C
Convienent handling and reduced waste
LVL 96 Refill with non-coded tubes 0,65ml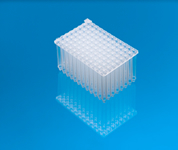 Material polypropylen (PP)
Tubes are pre-assembled in frame for fast loading of empty racks
One corner cut away for definite orientation
Available with coded or non-coded tubes
Pressure-tested tightness of tubes
Autoclavable for 20 min at 121° C, temperature-resistant to -80°C
Convienent handling and reduced waste